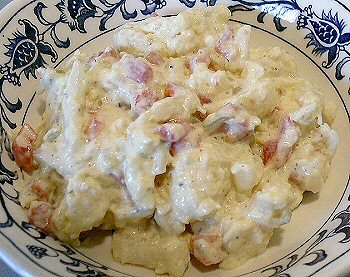 LOW CARB "POTATO" SALAD
16 ounce package frozen cauliflower
1/2 cup mayonnaise ( I used Miracle Whip, adds a few carbs but tastes great!)
4 ounce jar diced pimientos, drained well
1/4 cup dill pickle relish, drained well
1 tablespoon chopped onion, optional
1 tablespoon white vinegar
1 tablespoon Splenda or equivalent liquid Splenda
1 tablespoon yellow mustard
1/2 teaspoon pepper
Salt, to taste
Cook the cauliflower until tender, but not mushy, about 8 minutes. Drain very well, then chop into bite-sized pieces. Mix all of the ingredients in a medium bowl. Chill several hours before serving.
Makes 6-8 servings
Do not freeze
Per 1/6 recipe: 162 Calories; 15g Fat; 2g Protein; 6g Carbohydrate; 2g Dietary Fiber; 4g Net Carbs
Per 1/8 recipe: 121 Calories; 11g Fat; 2g Protein; 5g Carbohydrate; 2g Dietary Fiber; 3g Net Carbs
* I 'borrowed' this recipe from Linda. Thanks. This is yummy!